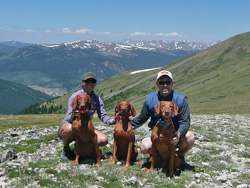 Davis/Reveles family minus Vizsla puppy Trip - We're on top of the world in Breckenridge, Colorado!!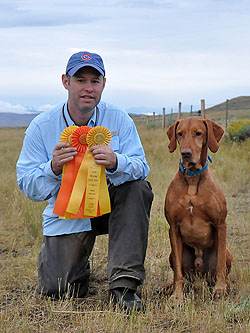 Vizsla Remus with proud Papa Aaron celebrating an AKC Master Hunter qualify and two Open Gun Dog placements in major retrieving stakes.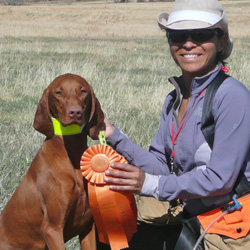 Amante and Mel celebrate AKC Junior Hunter qualifies! Amante had a flawless performance one of the days, scoring all 10s!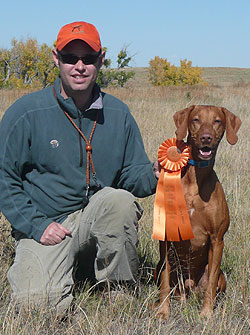 Vizsla Remus and Aaron celebrate another AKC Senior Hunter qualify.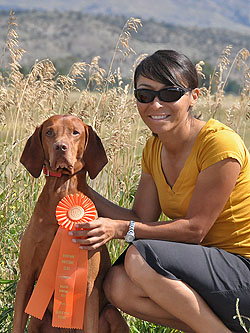 Vizsla Kosmo and Mel celebrate a NEW AKC Master Hunter!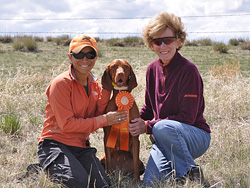 Vizsla Suede celebrates her NEW AKC Senior Hunter title with breeder/owner Judy Hetkowski and co-owner Mel. Suede went "4 for 4", picking up her SH title in four straight passes in a row!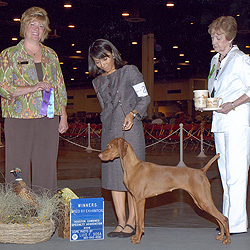 Trip goes WB for a major at the Texas Gulf Coast Vizsla Club Specialty, Judge Kathy Rust--Handled by Owner/Co-breeder, Mel Reveles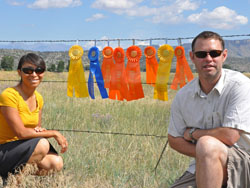 Mel and Aaron -- One weekend = 5 AKC Master Hunter qualifies, 2 Open Gun Dog placements in major retrieving stakes, and a 1st place win in Open Derby. We worked hard for those ribbons!!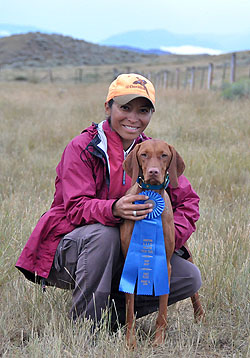 Vizsla Trip and Mel celebrating an AKC Open Derby win in Montana worth 2 Field Championship points!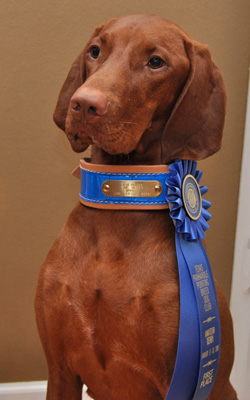 Vizsla Amante shows of her blue ribbon and flash collar for her Amateur Derby win in Texas worth 2 points toward her AKC Amateur Field Championship and Field Championship titles. Amante was handled by Aaron.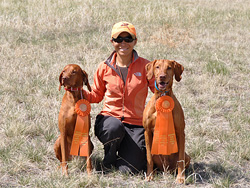 Vizslas Kosmo and Remus show off their ribbons for AKC Master and Senior Hunter qualifies! Proud Mama Mel handled her most talented Vboys.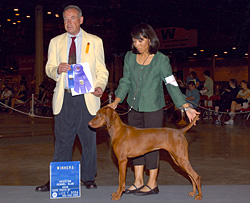 Vizsla Amante and Mel win a major toward Amante's AKC confomation title.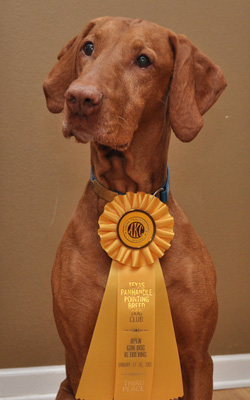 Vizsla Remus proudly shows off his 3rd place ribbon in an AKC Open Gun Dog major retrieving stake in Texas. Remus was handled by Aaron.